Park Affair
Our Community is a kaleidoscope  of different cultures, dreams, styles, and journeys.  Our diverse paths have led us to the comfort of the mountains, sea, and concrete.  We believe in an ever- evolving community thats free of judgment, and limitations. Park Affair grows because it is a collection of inspired collaborators. 
So, come inspire and collaborate! Park Affair started as a women's snowboard camp and has evolved  into so much more.  From networking programs, to ride meetups, gear reviews, and our favorite addition The Tristate Trifecta!  
Park Affair is designed for all riders who are comfortable in a women-led space, welcoming those who identify as a mix of she/her/him/he/them/they etc. 
WEEKEND & DAY PARK CAMPS
Park Affair has multiple camps around the East Coast. Focusing on Park Riding.  All levels welcome. Check out the Camp Schedule and Dates for more details. 
Register
Park Affair Competition
We had a great first comp event. Re-cap coming soon.
Find out more here
* Latest Project *
The Tristate Trifecta
This past summer we held an event in which we brought together a group of 15 women, bonded by snowboarding, on the ultimate board sport journey to surf, snowboard, and skateboard all in one day in the New York Tri-State area. Check out the Affair Journal section to see the full story. Blog Post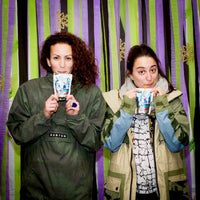 The Directors: Mercedes & Hailey
We are the present, the past and still the future. Bound by friendship, fueled and inspired by our common passions. Just common contributors hopin' that what we created inspires you to selflessly challenge and contribute. (delasoul)